When I started planning my trip to Kaliningrad, Russia, I knew that finding the perfect hotel was a must. With its blend of rich history and modern amenities, Kaliningrad has a wide array of accommodations for travelers to consider. From luxury hotels to more budget-friendly options, this unique city has something for everyone.
As I began my search, I discovered that the heart of the city is home to several well-regarded hotels, including the Radisson Blu Hotel Kaliningrad. The importance of a central location cannot be overstated, as it allows easy access to popular attractions such as the Amber Museum and the historic Fishing Village. Additionally, many of these hotels offer the added convenience of free WiFi and on-site parking.
During my research, I also found a variety of other lodging options throughout the city, including more than 300 hotels catering to a diverse range of preferences and budgets. No matter what kind of traveler you are, Kaliningrad's hotel scene has got you covered, making it easy to find the perfect base for exploring this captivating destination's fascinating history and vibrant culture.
Top Kaliningrad Hotels
Radisson Blu Hotel
During my visit to Kaliningrad, I had a chance to stay at the Radisson Blu Hotel, situated in the heart of the city. The hotel offers free WiFi, underground parking, and clean and comfortable rooms. Featuring a friendly staff and located on the main City Square (Victory Square), this hotel is an excellent choice for those looking for luxury accommodations in Kaliningrad.
Europa Hotel and Apartment
Another hotel I recommend is the Europa Hotel and Apartment. Offering modern apartments and rooms, this place provides guests with fantastic amenities and a great location. You can easily access many of Kaliningrad's popular attractions and experience the vibrant nightlife close to the hotel.
Ibis Kaliningrad Center
During my trip, I also stayed at the Ibis Kaliningrad Center. This is an affordable option known for its comfortable rooms and quality service. The hotel is conveniently located near Kaliningrad's top attractions. It is an excellent option for those visiting the city for business or leisure.
Hotel Marton Palace
Hotel Marton Palace is another great choice for visitors to Kaliningrad. It features a charming atmosphere and provides high-quality services at a reasonable price. The hotel is conveniently located near many of the city's main attractions, including the Kaliningrad Amber Museum and Fishing Village. With its comfortable rooms, attentive staff, and great location, it's a perfect choice for a memorable stay in Kaliningrad.
Honey Bridge Hotel
Lastly, I recommend the Honey Bridge Hotel, a cozy hotel situated near Kaliningrad's historic city center. This boutique hotel offers a unique combination of comfort, style, and affordability. With its friendly staff and exceptional service, it is an ideal option for those looking to have a personalized experience during their stay in Kaliningrad.
Budget-Friendly Options
Cheap Hotels
There are various options for travelers looking for cheap hotels in Kaliningrad. I understand that the best choice might cater to individual preferences, but I would like to highlight a few notable and budget-friendly hotels below.
When considering these options, it's important to note that the hotel with the lowest price might not always offer the best quality while still providing a decent lodging option. However, these hotels are worth considering if your primary goal is finding a budget-friendly accommodation in Kaliningrad.
Luxury Hotels
Crystal House Suite Hotel & Spa
During my trip to Kaliningrad, I had the privilege of staying at the luxurious Crystal House Suite Hotel & Spa. This five-star hotel offers a wide array of top-notch amenities, which include:
Comfortable and spacious suites
Fine dining experiences
An exquisite spa and wellness center
A modern fitness center
A stunning indoor pool
I was impressed with my suite, as it featured a large balcony, providing fantastic views of the city. The room was elegantly furnished and equipped with modern technology. The staff members were attentive and efficient, ensuring a smooth and enjoyable stay for me.
Kaiserhof Hotel
Another high-end option I'd recommend is the Kaiserhof Hotel, a four-star hotel located in the heart of Kaliningrad. With its prime location, the hotel boasts easy access to various tourist attractions and landmarks. Some top amenities provided by Kaiserhof Hotel include:
Elegant and well-appointed guest rooms
Fine dining restaurants
A fully equipped fitness center
A serene spa and wellness center
While I didn't personally stay at Kaiserhof Hotel, I had the chance to dine at one of their restaurants, and the culinary experience was phenomenal. I've also heard great reviews from fellow travelers who enjoyed their stay at this hotel.
Exploring Kaliningrad
During my visit to Kaliningrad, I had the chance to explore some fascinating attractions around the city. I'll share my experience with you and provide some insights on Königsberg Cathedral, Rossgarten Gate, Kneiphof Island, and the Baltic Sea.
Königsberg Cathedral
Located on Kneiphof Island, I found the Königsberg Cathedral to be a beautiful piece of Gothic architecture. The cathedral dates back to the 14th century, with its rich history etched onto every brick. As I entered the cathedral, I was mesmerized by the stunning stained glass windows and intricate artworks carved onto the walls.
There was a dedicated space within the cathedral for Immanuel Kant, the renowned philosopher, who was born in Königsberg. The space includes his grave as well as a monument portraying his works and ideas.
Rossgarten Gate
Another destination that interested me during my trip was the Rossgarten Gate. As one of the remaining gates of the old Königsberg city, this structure posed an impressive example of red-brick architecture. What I appreciated about this historic building is that it has been well-maintained and preserved, allowing visitors like myself to admire its timeless beauty.
Kneiphof Island
I couldn't resist exploring Kneiphof Island during my stay in Kaliningrad. The island, which is mostly a historical district, provided a fascinating glimpse into the past. I enjoyed walking along the cobblestoned streets and admiring the colorful pastel buildings. There were interesting museums, galleries, and shops that showcased the local arts and culture.
Baltic Sea
Finally, my visit to Kaliningrad wouldn't be complete without experiencing the beauty of the Baltic Sea. I took a trip to the magnificent Curonian Spit, a UNESCO World Heritage site, and found it to be the perfect place to unwind and appreciate nature. The pristine beaches, captivating dunes, and fresh air rejuvenated my senses, making it a memorable experience.
In conclusion, Kaliningrad is home to many captivating attractions, with fascinating history and stunning architecture. During my visit, I managed to explore Königsberg Cathedral, Rossgarten Gate, Kneiphof Island, and Baltic Sea, creating cherished memories and experiences that made my visit to the city unforgettable.
Amenities and Facilities
Free Wifi
During my stay at various hotels in Kaliningrad, I've found that most of them offer free Wifi for guests. This is a great amenity, especially for those who need to stay connected for work or leisure purposes. The connection at these hotels is generally strong and reliable, making it easy for me to browse the internet, check emails, and stream videos.
Sauna
One hotel that stood out for its excellent sauna amenity is the Kaiserhof Hotel. I found the sauna to be a wonderful place to relax and unwind after a long day of sightseeing in Kaliningrad. The facilities were clean, well-maintained, and staffed by professionals who ensured a comfortable experience.
Outdoor Pools
Kaliningrad can offer visitors a range of hotels with outdoor pools. I have enjoyed taking a refreshing dip in these pools during my visits, as they are well-maintained and provide a fantastic way to cool off on a hot day. Some hotels even provide poolside service, making it that much more convenient and enjoyable to lounge by the water.
Underground Parking
For travelers like me who prefer to have private transport options, it's important to find a hotel with underground parking facilities. In Kaliningrad, several hotels offer this amenity, which I find to be efficient and secure. The Baltica Hotel is one such establishment that provides underground parking, eliminating the need for me to search for on-street parking and ensuring the safety of my vehicle.
In summary, when visiting Kaliningrad, I found that various hotels offer top-notch amenities and facilities like free Wifi, sauna, outdoor pools, and underground parking. These features have contributed to making my stay in the city comfortable, enjoyable, and memorable.
Food and Dining
International Cuisine
In Kaliningrad, I found a variety of impressive international cuisine options during my stay. Many hotels with restaurants offer a diverse selection of dishes that cater to different tastes. From my experience, these restaurants excel in both the quality of their dishes and the ambiance they provide.
I tried a variety of dishes from cuisines around the world, including:
Italian pasta
Japanese sushi
Indian curry
Thai stir-fry
Each meal I enjoyed was flavorful and well-presented, demonstrating the skill and passion of the chefs working in these establishments. Additionally, the dining areas in the hotels I visited were tastefully decorated and comfortable, providing an enjoyable atmosphere in which to savor my meals.
While enjoying the international cuisine offered by these hotel restaurants, I also discovered some local specialties that are worth trying. For example:
Kaliningrad region seafood dishes, such as fish soup
Traditional Russian pelmeni (meat-filled dumplings)
Sweet pastries and desserts, like honey cake and piroshki
Exploring the dining options in Kaliningrad allowed me to taste a wide variety of flavors and learn more about the local culinary scene. From hotel restaurants to local eateries, the city offers a diverse range of dining experiences that cater to different tastes and preferences.
Room Types and Rates
Superior Double Room
One of the popular room options in Kaliningrad hotels is the Superior Double Room. During my stay at Radisson Blu Hotel Kaliningrad, I found their Superior Double Room to be quite comfortable and spacious. This type of room is perfect for two guests, with options for double or twin beds.
In my experience, the room had all the necessary amenities, such as free Wi-Fi, in-room coffee and tea facilities, a magnifying mirror, and a hairdryer. They also provided a cozy sitting area and a stylish private bathroom.
The price per night for a Superior Double Room can vary depending on the hotel and the season. Generally, rates can range from $50 to $100 per night. It's always a good idea to check with the hotel directly or through popular booking websites like Booking.com for the current prices and any special offers.
Usadba
Another accommodation option to consider in Kaliningrad is staying in a Usadba, which is a historical country estate. Usadbas can offer unique experiences, often preserving the architecture and atmosphere of the past, combined with modern amenities. Many of these estates have been converted into hotels, guesthouses, or vacation rentals.
Staying in a Usadba can provide a lot of character and charm, with rooms often decorated in period styles. Prices for a Usadba stay can vary based on the type of accommodation and period of your visit. You can expect anything from $40 to over $200 per night, depending on the estate.
To find the perfect Usadba for your stay in Kaliningrad, you may want to look for options on specialized websites, or on global platforms like Expedia or TripAdvisor.
Hotel Ratings and Reviews
When I visited Kaliningrad, I took the time to explore various hotel options within the city. Based on my observations and information from Tripadvisor and Booking.com, I found that there are hotels catered to different preferences, ranging from budget-friendly options to luxurious stays. The star ratings and reviews of these hotels proved to be quite helpful in making my decision.
My attention was drawn to the following categories:
3-star hotels
4-star hotels
Top reviewed hotels
3-Star Hotels
The city has a good number of 3-star hotels that offer comfort and standard amenities at reasonable prices. Some of the 3-star hotels I came across during my visit include:
Hotel Kaliningrad, which has a 3.5 rating on Tripadvisor
Villa Toscana, a highly-rated option among couples, as mentioned on Booking.com
4-Star Hotels
For a more luxurious experience, 4-star hotels are available in Kaliningrad. These hotels often come with more amenities and better service compared to their 3-star counterparts. Some popular 4-star hotels include:
Radisson Blu Hotel, Kaliningrad, a part of the Radisson hotel chain, received excellent reviews from travelers on Tripadvisor
Mercure Kaliningrad, another well-received hotel choice mentioned on both Tripadvisor and Booking.com
Top Reviewed Hotels
During my search, I paid particular attention to the top-reviewed hotels across different star ratings. Among the top-reviewed options, these hotels captured my interest:
Crystal House Suite Hotel & SPA, praised by couples and known for its nice views, as found on Booking.com
Hotel Kaiserhof, which has a spa and received excellent reviews from travelers, according to Tripadvisor
In conclusion, star ratings and reviews are essential factors to consider when choosing a hotel in Kaliningrad. During my visit, I found the city offers a diverse range of accommodation options that catered to various preferences and budgets.
Location and Accessibility
City Center
My preferred area for staying in Kaliningrad is the city center, as it is both convenient and accessible for visitors. The city center houses a variety of hotels suitable for different budget ranges, offering guests easy access to tourist attractions and amenities. Some hotels I'd recommend are the Radisson Blu Hotel and Hotel Tchaikovsky. Both are wheelchair-friendly and offer excellent service.
Radisson Blu Hotel
Located in the heart of the city
1,190 reviews with a 4.5/5 rating
Wheelchair access and facilities for disabled guests
Hotel Tchaikovsky
A stylish boutique hotel
Accessible facilities for disabled guests
Close to major attractions
Spar Supermarket
During my stay in Kaliningrad, I found the Spar Supermarket to be a convenient option for purchasing groceries and other essentials. The supermarket is well-stocked and located in close proximity to several accessible hotels. For instance, I discovered that both the Berlin Hotel and the Skipper Hotel are situated within a short distance of the supermarket.
Berlin Hotel
Affordable accommodation
Near the Spar Supermarket
Short walk to city center attractions
Skipper Hotel
Riverside location with views
Steps away from the Spar Supermarket
Accessible facilities available
For those considering a visit to Kaliningrad, prioritizing location and accessibility should be a top concern. I encourage fellow travelers to select a hotel that meets their specific needs, ensuring a comfortable and memorable stay in this historic Russian city.
Additional Hotel Options
Marton Palace
During my stay in Kaliningrad, I found the Marton Palace to be an excellent option for accommodation. This four-star hotel offers a variety of room options and excellent amenities for guests. The rooms are comfortable and spacious, perfect for a relaxing stay.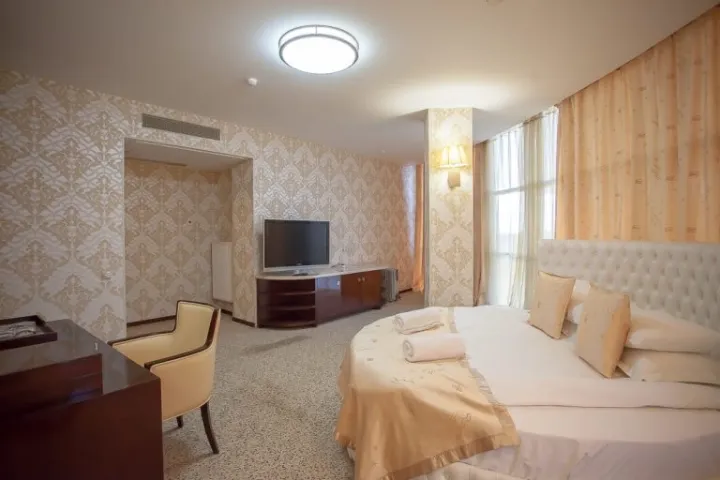 The hotel is centrally located near popular tourist attractions, making it easy for me to explore the city.
They provide a daily breakfast buffet, which served a wide selection of dishes to suit different preferences.
The hotel's facilities were great, including a fitness center and a spa where I enjoyed a rejuvenating treatment.
Mercure Kaliningrad
Another fantastic hotel option in Kaliningrad, Russia, is the Mercure Kaliningrad. This stylish four-star hotel offers modern amenities and elegantly designed rooms for a comfortable stay.
| Features | Details |
| --- | --- |
| Room Types | Standard, Superior, and Privilege Suites |
| Dining | On-site restaurant and bar |
| Location | Close to the city center and attractions |
During my stay at Mercure Kaliningrad, I experienced:
Friendly and attentive hotel staff who assisted me with all my needs.
A relaxing atmosphere that made me feel right at home.
Easy access to public transportation, allowing me to explore Kaliningrad with ease.
Both Marton Palace and Mercure Kaliningrad offer exceptional four-star accommodations for those visiting Kaliningrad. I found their room options, amenities, and proximity to popular attractions ideal for a comfortable and memorable stay.